RNAO president and CEO attend the Ontario government's 2022 swearing-in ceremony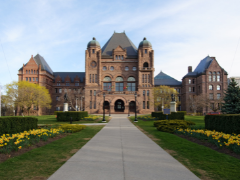 On June 24, RNAO President Dr. Claudette Holloway and CEO Dr. Doris Grinspun attended the Ontario government's swearing-in ceremony upon invitation from Premier Doug Ford. The ceremony took place outdoors at Queen's Park in Toronto.
During the ceremony, Premier Ford took his oath and unveiled the new cabinet of 30 MPPs, including the MPP for Dufferin-Caledon, Sylvia Jones, as Ontario's next deputy premier and minister of health.
RNAO will continue to work closely with the new government and all other political parties to solve the nursing crisis and advance the health of Ontarians and the province's health system. Stay tuned for more information.