RNAO's presentation in response to Bill 37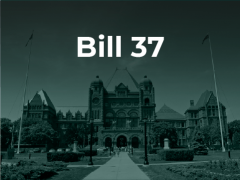 On Nov. 24, RNAO CEO Dr. Doris Grinspun presented virtually to the Standing Committee on the Legislative Assembly about RNAO's response to Bill 37.
Dr. Grinspun shared how long-term care (LTC) homes bore the brunt of the COVID-19 virus. The catastrophe that unfolded was avoidable. It was especially tragic because long-standing systemic issues raised by RNAO time and again weren't acted on and exposed for all Ontarians the fragility of the sector and the need for fundamental change. As of Nov. 24, 3,824 residents and 13 staff members in LTC have died of COVID-19.
To ensure that all LTC homes consistently meet the complex needs of their residents, Dr. Grinspun outlined two key recommendations in her presentation related to staffing and skills mix that Bill 37 must include:
Guarantee a minimum of four worked hours of direct nursing and personal care per resident per day, rather than a targeted average.
Mandate skill mix standards in legislation as per RNAO recommendations:

20 per cent RNs
25 per cent RPNs
55 per cent PSWs
One NP and one infection prevention and control RN per 120 LTC residents
An average of one hour of care per day per resident from allied health professionals (e.g., dieticians, speech language pathologists and occupational therapists)
These recommendations are the heart of RNAO's Nursing Home Basic Care Guarantee and the foundation upon which a new LTC sector needs to be built.
Read RNAO's full submission and 10 recommendations online. For a recap of the presentation, read RNAO's Twitter coverage.