Recruit RNs, NPs or new grads and be rewarded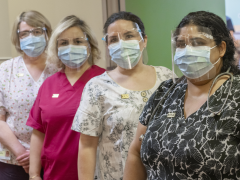 It pays to share. Recruit five RNs, NPs or new grads to join RNAO and your 2023-2024 membership is on us.
For every RN, NP and new grad you recruit, you'll receive $20 towards an RNAO credit that can be used towards your RNAO membership renewal or registration for any upcoming RNAO conference or event. When you have recruited five new members, you get a free membership.
Looking for a way to boost your number of recruits? Tell them about all of RNAO's exclusive member benefits, including and professional liability protection (PLP). Plus, with the October free offer, they have another reason to join.
Sign up at join.RNAO.ca.