Read RNAO's 2022 provincial election platform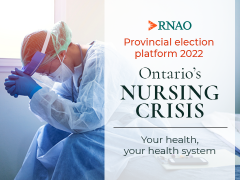 Ontarians will head to the polls on June 2 to cast votes in the 2022 provincial election. RNAO's election platform, titled Ontario's nursing crisis: Your health, your health system, outlines nurses' asks in five priority areas: environmental and social determinants of health, nursing, care delivery, and fiscal capacity.
RNAO wants all political parties to adopt its evidence-based solutions and Ontarians to vote for candidates who commit to solving the province's nursing crisis and improving people's health.
For more information, read the official media release and explore the platform on RNAO's website.
Keep an eye on the platform for each party's responses to the recommendations.