Ontario experiences deadly storm: Climate action is needed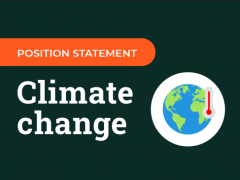 During the Victoria Day long weekend (May 21 – 23), parts of Ontario experienced severe weather, including a widespread windstorm associated with ongoing thunderstorms.
Tens of thousands of Ontario residents were left without power and more than 10 people died due to the storm. The communities of Uxbridge, the Township of Greater Madawaska and Clarence-Rockland declared states of emergency. RNAO extends its condolences to the families and friends of the individuals who lost their lives and expresses its support for the thousands of families that saw their lives disrupted and their properties destroyed.
Climate change is an immediate and growing threat to human health, and climate action is urgently needed to prevent future storms and worsening environmental conditions.
In its position statement on climate change, RNAO advocates for all levels of government to place central priority on combatting and adapting to climate change while assuring that costs and benefits are equitably shared. To do this, the federal, provincial and municipal governments must establish greenhouse gas (GHG) emission targets consistent with current scientific evidence and Canada's fair share: no less than 60 per cent below 2005 levels by 2030, fund and implement an aggressive program of GHG mitigation or reduction which addresses all sources of GHGs, ensure transparent reporting of the GHG reduction program with annual benchmarks and remediation, and more.
Read RNAO's position statement for our full list of asks on climate change.