Ontario appoints new chief of nursing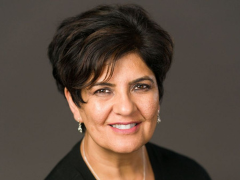 RNAO congratulates RNAO member and RN Dr. Karima Velji for her appointment as Ontario's new chief of nursing and professional practice (CNPP) and assistant deputy minister. On July 7, Dr. Velji shared a tweet expressing her excitement to work with Deputy Premier and Minister of Health Sylvia Jones and Deputy Minister of Health Catherine Zahn.
RNAO looks forward to working with Dr. Velji to resolve the nursing crisis and improve the overall functioning of Ontario's health-care system.
Please retweet RNAO CEO Dr. Doris Grinspun's tweet and join share your own congratulatory message to Dr. Velji (@KarimaVelji on Twitter).