The Nurses' Health Program is here for you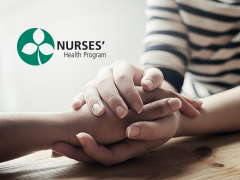 Are you or someone you know struggling with substance use and/or mental illness? The Nurses' Health Program (NHP) is a free, voluntary program to help Ontario nurses seeking treatment.
Supported by RNAO, the College of Nurses of Ontario, Ontario Nurses' Association and Registered Practical Nurses Association of Ontario (WeRPN), the NHP is a recognized best-in-class support program for nurses that focuses on early identification and referral for treatment. It is designed for eligible participants to continue practising while following a treatment and recovery monitoring plan.
Learn more at nurseshealth.ca.