New special issue of RNJ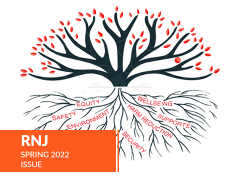 A new special issue of RNJ is here. This latest issue explores the social and environmental determinants of health that motivate members to step up and speak out. Before diving into the stories, read the overview about how RNAO is celebrating its members' efforts to build a healthier tomorrow at the individual, system and global levels.
This special issue features many stories related to the environmental and social determinants of health, including Q&As with RN Rob Samulack, who attended the 2021 United Nations Climate Change Conference, and RNAO's 57th President Dr. Claudette Holloway and a profile on RN Abiola Akinremi who is passionate about humanitarian work. This special issue also includes Immediate-Past President Morgan Hoffarth's final President's View, CEO Dr. Doris Grinspun's conversations with members about nursing Ontarians in health and in illness, as well as the ever popular In the End column.
Visit RNJ.RNAO.ca to access the full issue. Please take a few moments to share your feedback on RNJ via the short online form.