Mission to help Ukraine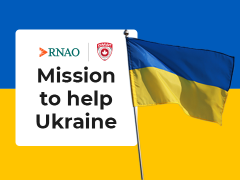 In partnership with Canadian Medical Assistance Teams (CMAT), RNAO issued a call for RNs and NPs to volunteer to go to Poland to provide primary health care, mental health care, parental/newborn care and other areas of nursing practice to refugees arriving from Ukraine.
The application form is now closed and RNAO sends a massive thank you to all of the nurses who applied to volunteer.
Please see the following media coverage featuring members of CMAT and RNAO who are providing care to refugees:
March 2022
April 2022
June 2022
If you are still interested in helping, CMAT gratefully accepts tax-deductible donations to support their humanitarian work. You can support a specific volunteer to help them with expenses by donating directly on the CMAT website, or make a general donation. Tax-deductible donations can be made by Interac e-transfer or PayPal to donations@canadianmedicalteams.org. Or you can donate directly online under 2022 Ukraine Conflict Humanitarian Response. If you are donating in honour of a specific CMAT volunteer, be sure to enter their name at the bottom of the donation form.
CMAT also welcomes applications for volunteers to assist with other disaster responses. For more information, visit CMAT's website and follow @CMATeams on Twitter.
Photos of RNAO members in Ukraine
Featured members: Ishvinder Bhathal, Brandon Duncan, Corsita Garraway, Louise Gilbert, Catherine Hayhoe, Nathan Kelly, Natalia Kusendova, Jordan Lenz, Michaela Parenteau, Elena Petretchenko, Val Rzepka, Ameek Singh, Kerri Tadeu and Shereen Worrad.