Members' tweets – January 2022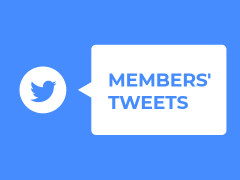 Every tweet you post about nursing and health care increases the profile on issues that matter most to nurses. Thank you to every RNAO member who stays engaged on social media to speak out on important topics and encourage the government and other decision-makers to take action where it's needed most. Every tweet, retweet, favourite and quote tweet is important to raising our collective voice.
Here are some tweets from RNAO members this past month:
For more information on how to build your Twitter presence, download RNAO's tips and tricks infographic and check out RNAO CEO Dr. Doris Grinspun's blog.
Do you want your tweet to be featured in next month's In the Loop? Tag @RNAO on Twitter for a chance to be featured.