Media release: RNAO calls out extremist and hateful actions driven by far-right on display in Ottawa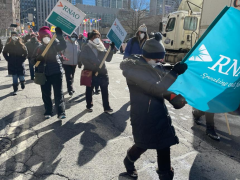 RNAO condemns the racist and extremist behaviour that unfolded in Ottawa. "Our association deeply believes in people's rights to demonstrate peacefully and to express themselves in a democratic society. However, what we and Canadians right across this country are witnessing does not fall into that category," RNAO CEO Dr. Doris Grinspun said in Jan. 31 media release.
RNAO President Morgan Hoffarth adds: "These actions are also endangering Canadians. Masks and vaccines are essential tools in the struggle to regain some normalcy during this protracted pandemic. It is hugely irresponsible to continue to promote anti-mask and anti-vaccine misinformation that is feeding the fifth wave – a wave driven mostly by those who are unvaccinated and do not take precautions."
RNAO calls on politicians, community and faith leaders and everyone else who cares about a healthy and democratic society to condemn the reprehensible actions, and on police forces to put an immediate stop to them.
For RNAO's full response, please read the official media release.
On Feb. 20, Grinspun and RNAO members joined the Community Solidarity TO rally and march in Toronto to call for the harassment, bullying and promotion of hatred to stop. Please read and share Grinspun's tweet about the event.