Kickoff of Leadership and Management Program & next steps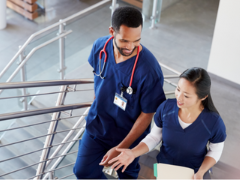 On Sept. 14, RNAO kicked off its new Leadership and Management for Nurses Program – a powerful, free forum for nurses to interact with their leadership peers and experienced health-care leaders, renew collegial partnerships, craft new networks, and build and enhance nurse leader-manager knowledge and skills.
RNAO's Nursing Through Crisis: A Comparative Perspective report identifies a number of challenges faced by nurses especially throughout the pandemic years. The Leadership and Management for Nurses Program is one of the suggested solutions, and is also RNAO's response to the calls from nurses, nurse managers and aspiring leaders alike to provide resources and supports to foster professional leadership growth, increased engagement in decision making and increased opportunities for participation in creating healthier workplaces. The program provides theory, opportunities for sector-specific application of content and case study analyses in smaller groups.
The first phase of the program (September-December 2022) is targeted to nurses in hospitals and long-term care. In 2023, nurses can look forward to new streams in primary, home and community care will be offered. Nurse managers and aspiring nurse managers across all sectors will be invited to submit applications to participate. The program is supported by speakers, facilitators and mentors from RNAO's Nursing Leadership Network of Ontario interest group, nurse mentors from various health-care organizations, and RNAO staff members.
For a recap of the first event, please read the Twitter thread. Learn more about the program on the event page and stay tuned for details on the next phase of the program.