Join RNAO's third cohort of Ontario Health Teams participating in the Best Practice Spotlight Organization Program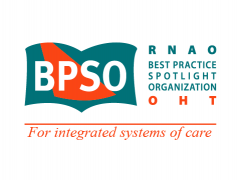 RNAO is now accepting letters of intent from Ontario Health Teams (OHT) interested in joining its Best Practice Spotlight Organization® (BPSO) OHT Program.
This is an opportunity for your OHT to advance evidence-based practice and improve health outcomes. The BPSO OHT model involves a collaborative partnership to collectively implement best practice guidelines (BPG) as one coordinated team, and is designed to help teams across sectors and disciplines work together to achieve the quadruple aim and the United Nations Sustainable Development Goals.
Interested OHTs are asked to submit a letter of intent by Tuesday, May 24, 2022. Letters should include:
name of OHT and key contact person
OHT status (i.e., in discovery, in development, OHT candidate)
sectors interested in joining the BPSO OHT program
an explanation of why you would like to become a BPSO OHT
a brief description of your readiness to join BPSO OHT network (e.g., interest or experience with BPGs, or participation of OHT partners within the BPSO program)
a copy of your OHT application (optional)
Please submit your letter of intent online via MyRNAO.
RNAO will be hosting a BPSO OHT orientation webinar on Tuesday, April 26, 2022. This webinar will describe the BPSO OHT Program and how it is designed to help OHTs meet their goals and advance positive outcomes, as well as the process for becoming a BPSO OHT. You will also have an opportunity to hear about successes and gains from the first two cohorts of BPSO OHTs.
Register online to save your spot.
Please note the following important dates:
orientation webinar: Tuesday, April 26, 2022
letter of intent due: Tuesday, May 24, 2022
BPSO OHTs selected and BPSO OHT agreement signed: June/July 2022
virtual launch of cohort three: September 2022
For questions or more background information about the BPSO OHT program, please contact BPSO OHT project coordinator Oliwia Klej at oklej@RNAO.ca.