It's time to submit resolutions for the 2022 Annual General Meeting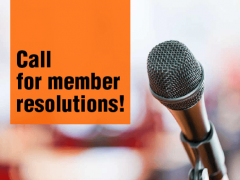 RNAO invites you to submit a resolution to raise the profile of important issues and engage your nursing colleagues in discussions that matter most to nurses. Resolutions will be reviewed and discussed at RNAO's next Annual General Meeting (AGM) in June 2022.
Learn more and submit your resolution for the 2022 AGM via the MyRNAO submission form. The deadline to submit is Feb. 7, 2022 at 5 p.m. ET.