Education event for RNAO's region 5 members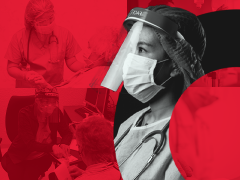 On Sept. 20, RNAO helped to facilitate an education event exclusively for its members in region 5, which consists of the Grey-Bruce, Muskoka-Huronia-Parry Sound and South Simcoe chapters.
During the event, RNAO's nurse practitioner policy analyst Dr. Brenda Stade provided an overview of the findings in the Nursing Through Crisis: A Comparative Perspective report. Then, a panel of nursing leaders from local hospitals shared strategies for retention and recruitment within their organizations, and engaged with participants' questions and ideas related to the nursing crisis.
Thank you to everyone who attended and shared their local perspectives on the topic.
For region 5 members who would like to get more involved, please contact RNAO's region 5 board of director's representative Lori Webel-Edgar at lwebeledgar@gmail.com.