COVID-19 Webinar Series: March 14, 2022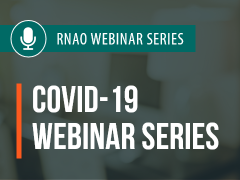 You're invited to join RNAO's next COVID-19 Webinar Series event happening March 14 at 2 p.m. ET. Hosted by RNAO CEO Dr. Doris Grinspun, this free, two-hour webinar will provide updates on COVID-19 and timely issues, as well as provide an opportunity for you to ask questions.
Previous webinars in the series have focused on how internationally educated nurses can help solve the nursing crisis, Omicron, key issues of 2021 and collective action for 2022, and more. All past webinars are available to watch on RNAO's YouTube channel.
For more information on the next webinar and to register, visit the official event page. Don't forget to tag @RNAO in your tweets during the webinar.