COVID-19 Webinar Series: Jan. 10, 2022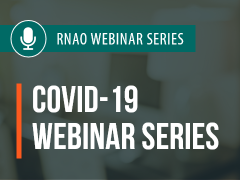 Launched in March 2020, RNAO's COVID-19 Webinar Series continues to engage nurses and other health-care providers in timely discussions about the COVID-19 pandemic. The next webinar is on Monday, Jan. 10, 2022 at 2 p.m. ET and you're invited to join for free.
RNAO's CEO Dr. Doris Grinspun hosts the webinars and shares updates on COVID-19 and the health system, and responds to your questions. Past webinars have focused on staying civil during heated COVID-19 interactions, valuable lessons from the pandemic, the world after COVID-19, and more. Watch past webinar events on RNAO's YouTube channel.
Learn more about the COVID-19 Webinar Series and register for upcoming webinars on the event page.