COVID-19 Webinar Series: Feb. 14 at 2 p.m. ET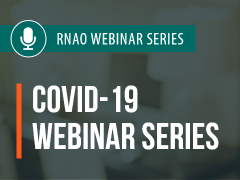 As the COVID-19 pandemic continues, so does RNAO's monthly COVID-19 Webinar Series. Mark your calendar and register now: the next webinar event is happening on Monday, Feb. 14 at 2 p.m. ET. The topic is how internationally educated nurses (IEN) can help solve the nursing crisis: A panel discussion and stories from IENs.
The panel will discuss the following:
the lived experiences of IENs who are facing an arduous process to meet registration requirements and practice as registered nurses in Ontario
overview of the various roadblocks to registration in Ontario
why temporary initiatives such as the Long-Term Care Staffing Pool Program are unhelpful and short-sighted
actions RNAO is taking to expedite the path to registration in Ontario
Join the discussion to learn about the issues and how you can help advocate for swift and appropriate solutions. To learn more, visit RNAO's #IENaction webpage and follow @RNAO, #IENaction and #NursingCrisis on Twitter.
Nurses and other health-care providers from Ontario, Canada or abroad are welcome to join at no cost. For more information and to register, please visit RNAO's event page.
More than 200 people attended January's webinar, which featured a Q&A session with RNAO CEO Dr. Doris Grinspun about the highly transmissible Omicron variant. If you missed it, watch the webinar on RNAO's YouTube channel and read the live Twitter coverage.
Past webinars have also focused on collective action for 2022, valuable lessons from COVID-19, COVID-19 amidst back to school and the federal election, and more. To watch archived COVID-19 webinars, please visit RNAO's YouTube playlist.