COVID-19 Webinar Series: April 11, 2022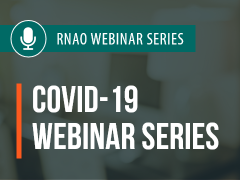 The COVID-19 pandemic is not over yet, and RNAO remains committed to keeping you informed and feeling supported. Join RNAO CEO Dr. Doris Grinspun and guest speakers for the next monthly COVID-19 Webinar Series happening on April 11 at 2 p.m. ET.
March's webinar focused on the consequences of public health measures being lifted in Ontario. In case you missed it, watch all archived webinars on RNAO's YouTube channel and read the live Twitter thread.
For more details and registration, please visit the event page.