BPG Clinical Pathways for long-term care homes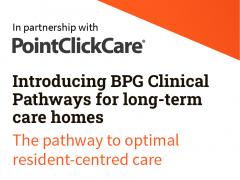 In partnership with PointClickCare (PCC), the predominant vendor of electronic medical record systems designed specifically for long-term care (LTC), RNAO has developed a new digitized version of the best practice guidelines (BPG).
These new evidence-based implementation tools, called BPG Clinical Pathways, were launched on April 7, 2022 and are currently available to all LTC homes across the province who use the PCC system. These BPG Clinical Pathways will promote safe, high-quality resident care, improve staff efficiency and support legislative and regulatory compliance.
To learn more, register to attend an information session at RNAO.ca/clinicalpathway.