Aug. 18: RNAO's response to the Ontario government's Plan to Stay Open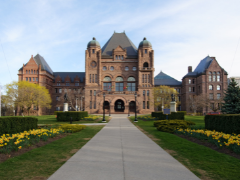 In an Aug. 18 media release titled "RNAO welcomes gov't measures to bolster the profession and address the nursing crisis, calls for bolder steps, warns against privatization," RNAO responds to the Ontario government's five-point plan to tackle health system challenges:
Announced by Minister of Health Sylvia Jones and Minister of Long-Term Care Paul Calandra, the plan contains measures in the following areas: Preserving hospital capacity, providing the right care in the right place, reducing surgical waitlists, easing pressure on emergency departments and further expansion of Ontario's health workforce.
In response, RNAO President Dr. Claudette Holloway says "We are glad the government now recognizes the magnitude of the nursing crisis and the central role of stakeholders like RNAO to find solutions so our health system can meet the care needs of Ontarians," but highlights that any plan to add beds to increase capacity will not work unless there are more nurses available to provide patient care. The government must make health human resource planning its top priority.
Adding to Holloway's comments, RNAO CEO Dr. Doris Grinspun says that Ontario must build career paths for nurses with full-time positions being better recognized than agency positions. And, Grinspun insists that Bill 124 is an affront to the profession and that to retain nurses in Ontario we must do away with Bill 124 and reduce workloads.
On the topic of privatization, Grinspun says "RNAO does not oppose OHIP-covered specialized independent health facilities – as long as they are not owned or operated by for-profit corporations." She notes that for-profit corporations are legally obliged to prioritize the interests of shareholders and investors – not those of the public."
Read the full media release online. For all of RNAO's media releases, please visit the newsroom.