Action Alert: There's a nursing crisis – what are your candidates' plans? Ask them!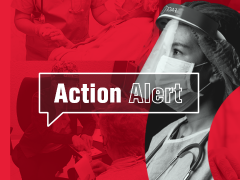 Make sure that the nursing crisis is an election issue in your riding.
On May 12, during Nursing Week, RNAO released Nursing Through Crisis, A Comparative Perspective, a report that sets out in stark terms the depth of Ontario's nursing crisis:
75 per cent of nurses are burnt out
Significant minorities of nurses report severe or extremely severe levels of depression (16.7 per cent), anxiety (20 per cent) and stress (15.5 per cent)
69 per cent of nurses intend to leave their position within five years and 42 per cent of those intend to leave nursing profession altogether or retire
Take action: Sign RNAO's Action Alert to demand that candidates in your riding address the nursing crisis. Once you've signed it, share the Action Alert on your social media channels to encourage others to add their voices.
For all Action Alerts, visit RNAO.ca/policy/action-alerts.