$100 membership deal and #RNAOChapterChallenge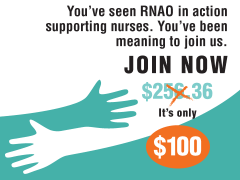 Our $100 deal is still on and it is FAB! If you know a fellow nursing colleague who may be interested in joining RNAO, let them know that now is the best time to do it.
Membership includes professional liability protection and is valid until Oct. 31, 2022.
They can join by visiting join.RNAO.ca.
#RNAOChapterChallenge
In April, RNAO ran its first ever #RNAOChapterChallenge to encourage all chapters to recruit as many new members as possible. For additional information and to see the results, please visit MyRNAO.ca/RNAOChapterChallenge.