Registered Nurse Journal is now RNJ digital
Sign in HERE for full access to features, profiles, columns, news, and our much-loved What nursing means to me section. Look at the current issue, or back issues dating to early 2018. RNJ digital is a benefit of membership with RNAO, which means visitors must be registered with myRNAO.ca to enjoy all the content on the new platform.
Once you've signed in, be sure to tell us what you think by responding to three quick questions using the "feedback" link in the footer of each page.
To inquire about guidelines for submissions, letters to the editor, and other opportunities to become involved in your RNJ, take a look at our TIP SHEET, contact editor@RNAO.ca or call 416-599-1925/1-800-268-7199.

LATEST ISSUE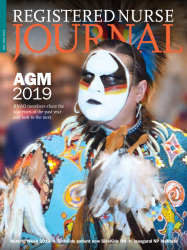 May/June 2019
President's View Angela Cooper Brathwaite is here
Conversations with members Doris Grinspun is here

Features include…
AGM 2019 – Highlights from this year's AGM include a recap of resolutions, celebration of the newest BPSOs, and acknowledgement of the latest recognition award winners.
Nursing Week 2019 – Coverage of various Nursing Week events, including BPSO visits, Take Your MPP to Work, and more.

A destiny to care – RN Connie Cameron recalls how the collective embrace of nurses in her childhood led her to a career of giving back.

Inaugural NP Institute – Nurse practitioners from across the province gathered in March to network, mentor and motivate.

In the end: What nursing means to me – Retired corrections RN Shirley Kennedy remembers one young inmate who taught her an invaluable lesson.