Why your health matters - RNAO's platform - Rhonda Seidman-Carlson
Submitted by nhalper on Jan 30, 2013, 11:17am
Rhonda Seidman-Carlson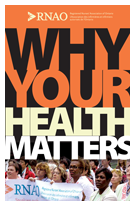 Good morning and welcome everyone.
My name is Rhonda Seidman-Carlson and I am the President of the Registered Nurses' Association of Ontario (RNAO). We are the professional association of registered nurses who practise in all roles and sectors in the province. Our mandate is to advocate for healthy public policy and for the role of registered nurses so we can enhance the health of Ontarians.
The political landscape in this province has shifted. The governing Liberal party has a new leader. And within a few weeks, Premier-designate Kathleen Wynne is expected to announce a new cabinet, and following that, a new legislative session will begin with a speech from the throne. It is with this in mind that we would like to help set the agenda, so to speak.
We are here today to unveil a platform of health policy recommendations that nurses want Ms. Wynne, PC leader Tim Hudak, and NDP leader Andrea Horwath to adopt. There is no better time for collaboration than now. There are serious health matters that require focus and attention. We believe our recommendations will improve the health of people and build an even stronger Ontario.
Our system is well-regarded by many, both here and outside the province. But it remains focused on illness more so than on prevention. And, it's centred on health-care professionals and not patients. Good health means many things. It's about staying healthy, and having access to what it takes to be healthy in the first place.
Earning a livable wage, living in affordable housing, being able to afford nutritious food, having access to quality education and child-care services – all of these basic life necessities shape a person's ability to be healthy. But for one-point-three million people in this province (1 in 10) having what they need to stay healthy is a tremendous challenge.
We need to fix this. And here's why. It is both regrettable and shameful that in a Hamilton neighbourhood, the life expectancy is the same as that of people living in Nepal. How can the average life expectancy of those living in a neighbourhood in one part of Hamilton be 65 years of age, and in another, just a few kilometres away, one more affluent, be 21 years greater with the average life expectancy of 86 years? The answer is a growing gulf between rich and poor.
The good news is that we know good policy can make a difference in the day-to-day lives of people. The current government has made strides with its Poverty Reduction Strategy. But the work on this issue can't stop just because times are tough. People who live in poverty deserve to live in dignity. The people who live in that one Hamilton neighbourhood deserve the same dignity as those who live in the more affluent part of that city.
Having a good job is a pathway out of poverty. We applaud previous efforts to increase the minimum wage. However, the hourly minimum wage of $10.25 has not gone up since March of 2010, nor has it kept up with the cost of living. The same is true for social assistance rates. Although rates increased marginally, thanks to the Liberal government, the net effect of these modest increases has actually been stripped away because current rates have not kept pace with the cost of living. Waiting lists for affordable housing are growing not just in Hamilton but around the province. In Hamilton, more than 6,000 households are waiting for housing geared to their income. And across the province, there are 156,358 households waiting an average of two to four years for affordable housing. Some wait even longer.
Poverty is a serious health issue that cannot be ignored.
Our recommendations to reduce poverty are:
increase the minimum wage
improve access to affordable housing
transform the social assistance system to reflect the actual cost of living
Nurses also know environmental determinants of health play a huge role in a community's overall health and well-being. Access to clean air is a right. The current government made great strides in passing ground-breaking legislation that banned the cosmetic use of pesticides. It also shut down several coal plants. But more work remains. We need a continued focus on green energy. And we need better protection from the health effects, particularly in young children, of certain toxics commonly found in our workplaces and homes and the products we consume.
Our recommendations to clean up the environment are:
immediately close all remaining coal plants
ensure people have the right to know about the existence of toxics in their homes, workplaces and consumer products
Now I want to ask RNAO's Chief Executive Officer, Dr. Doris Grinspun, to share with you our recommendations for nursing and a vision of a health system that is more responsive to patients and makes better use of the knowledge and skills of RNs.
Go to Doris Grinspun's speaking notes now