Why your health matters - RNAO's platform - Doris Grinspun
Submitted by nhalper on Jan 30, 2013, 11:17am
Doris Ginspun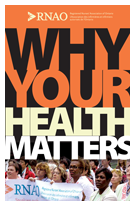 Thank you, Rhonda. Good morning everyone.
I'd like to begin with a question. Which province in this country has the second worst RN-to-population ratio? If you guessed Ontario, you are correct. In fact, according to the latest statistics from the Canadian Institute for Health Information, Ontario has 70.8 (down from 72.1 in 2010) Registered Nurses (RN) per 10,000 people, while the national average is 83.4 (up from 82.9) RNs per 10,000 people. Yes, you heard right: while Canada's RN-to-population ratio has improved, Ontario's has declined. This inevitably affects nurses' workloads and patient outcomes.
In the past two years alone, we've lost 1,037 RN positions. This should trigger the alarm bells for the government and the public. But, the government, so far, has shrugged this off! This makes no sense, especially at a time when our population is growing, becoming older, and their health needs are increasing and becoming more complex. So, we have to reverse this trend. People's lives are at stake.
In order to catch-up with the average RN-to-population ratios in Canada, Ontario needs to add to its workforce almost 17,000 RNs (16,831 more RNs). RNAO is asking the government to act on good policy and good will by adding at least 9,000 full-time RNs by 2015 to begin to close the gap.
Not all is bleak with the nursing workforce: there is good news, too. More nurses in Ontario are working full-time, providing continuity of care and caregiver to patients. RNAO has long advocated for 70 per cent of all nurses to be working full-time. Patients deserve nothing less and the evidence shows that when you have a higher proportion of full-time RN staff, you have lower rates of complications and better patient outcomes.
Our health system prides itself on professionals who collaborate each and every day to take care of patients. Equally important is the need for all health professionals to be able to work to their full scope of practice. RNs are no exception. And in Ontario, we could do a lot more to make this a reality. Working to full scope means giving RNs the opportunity to do what they can do based on their knowledge and skills. Our system is evolving, and when you couple that with the complex care needs of Ontarians, you also need RNs who can take on an expanded role. This will result in faster access to quality care for people.
Currently, RNs in Ontario are limited compared to what they can do in other jurisdictions across Canada and abroad. For example, RNs in the United Kingdom can prescribe lab tests and medications. Other provinces are heading in this direction as well, such as B. C., Alberta, Saskatchewan, and Manitoba. In a report we released last June, called Primary Solutions for Primary Care: Maximizing and Expanding the Role of the Primary Care Nurse in Ontario , we pointed out that efforts to both maximize and expand the role of RNs who work in primary care must be taken urgently in Ontario to improve our health-care system's efficiency and become more cost effective.
And speaking of taxpayers' dollars, there is another way we can improve our system. We can save money and make it more responsive by decreasing duplication and improving integration. A report we released this past October called Enhancing Community Care for Ontario (ECCO) proposed a three-year plan that anchors the system in primary care. It urges the government to ensure every person in the province has timely access to comprehensive primary care, with a greater emphasis on health promotion, disease prevention, chronic disease prevention and management, and mental health. ECCO recommends that Local Health Integration Networks lead health system planning for all sectors. And to make sure the voices of patients are present at the planning table through Patient-Family Councils at each LHIN.
Another facet of the ECCO model would see the functions of Community Care Access Centres (CCAC) integrated into existing areas of the health system. This means transitioning the 3,500 Case Managers and Care Co-ordinators from CCACs into primary care through a carefully crafted labour strategy that ensures no loss of compensation. These expert Case Managers would be anchored in primary care serving Ontarians with complex needs and multiple co-morbidities.
RNAO says that at the end of ECCO's three-year plan, CCACs will be eliminated and LHINs would take on the entire planning for the health-care system. After all, if LHINs cannot deliver on that after 10 years of existence, it begs the question: of what are they here for?
Making primary care central to Ontarians means also affording them the benefit of care by inter-professional primary care teams, which RNAO is asking the government to ensure happens by 2020. This can be accomplished by expanding existing interprofessional primary care practices that hold infrastructure capacity, and by creating new sites where no capacity exists. To achieve this, the government needs to invest more money in Community Health Centres, Nurse Practitioner-led clinics, Aboriginal Health Access Centres, and Family Health Teams. And it means limiting new solo physician practices.
I want to talk about the success of Ontario's 26 Nurse Practitioner-led clinics (NPLCs). Built from the ground up, they are a highly successful inter-professional model of primary care delivery that has improved access for thousands of people across the province. They are led by NPs, who work alongside RNs, RPNs, social workers, pharmacists, physicians, dieticians and others. These clinics offer comprehensive care and help people navigate through the health system. They are cost effective and responsive to the needs of their clients. In fact, they are so successful, we want to see existing ones funded so they can operate to full capacity and new ones open up in areas where patient need exists. The Lakehead NPLC in Thunder Bay is just one example where clients are currently on a waiting list to get in, even though there are two exam rooms ready but sitting empty. What this clinic needs is government funding to add more NPs and RNs to the mix.
One of the most important things we can do in nursing is level the playing field when it comes to wages. It is no secret that a nurse who works in a hospital earns more than a nurse who works in long-term care or community care. But their work is no less important, which is why this needs to be looked at seriously. Wage differentials essentially act as a disincentive and means many nurses who could be working in home care or long-term care are choosing not to work in these sectors.
Our recommendations to improve nursing care are:
Hire 9000 additional FTE RNs by 2015
Ensure 70 per cent of all nurses work full-time so patients have continuity in their care and care provide
Secure fair wages for registered nurses and nurse practitioners working in all sectors of health care
Maximize and expand the role of RNs to deliver a broader range of care, such as ordering lab tests and prescribing medications
Ensure all existing nurse-practitioner-led clinics are funded to operate to full capacity, and opening new nurse practitioner-led-clinics where patient need exists
Improve navigation across our complex system by partnering with patients to co-ordinate their care through primary care in community health centres, nurse practitioner-led clinics, and family health teams
Commit to providing all Ontarians with access to inter-professional primary care by 2020
Support LHINs to achieve regional health system planning, integration and accountability for all health services, using an evidence-based and person-centred approach rooted within a population health, primary health-care framework
Eliminate Community Care Access Centres by 2015 and transition 3,500 Case Managers and Care Co-ordinators into primary care through a carefully crafted labour management strategy that retains their salary and benefits
I want to shift now to an area of our health system that is under attack. Last fall, RNAO spoke out against the proposed sale of the Shouldice Hospital to a company controlled by a U.S. conglomerate. We spoke out for several reasons. In recent years, the federal government has taken a hands-off approach to the principles and spirit of the Canada Health Act. It turns a blind eye to jurisdictions that experiment with two-tiered services, delisting, user fees and private for-profit medicine. We also know that the federal health transfers will eventually be pegged to a province`s GDP meaning far less money will be provided to provinces and territories than in the past. Roy Romanow, a former premier of Saskatchewan has described Ottawa's plan for health-care transfers as a deliberate strategy to abandon health care to the provinces and foster the development of more private, for-profit medical enterprises.
It is truly amazing because all the research tells us that publicly funded, not-for-profit health care delivers better health outcomes at lower cost. All we have to do is look south of the border for the evidence that commercialization of health care has not served Americans well.
I am happy to report that the company that was interested in buying Shouldice decided against the sale. But we can't rest. We need to be vigilant because there are for-profit interests that will stop at nothing to make money off our cherished system.
This doesn`t mean that there isn't room for improvement or innovation. RNAO has had the pleasure of being part of a working group together with the Canadian Medical Association and the Canadian Nurses Association. RNAO's evidence-based clinical practice guideline on wound care has been accepted by the working group on innovation in health care led by Premiers Brad Wall and Robert Ghiz. These are the kinds of improvements we should be making to strengthen our publicly funded system.
Our recommendations for medicare are:
Commit to and expand our publicly funded, not-for-profit health-care system in areas such as home care
Reject efforts to commercialize or privatize health-care delivery; and
Focus on well-researched and demonstrated policies and evidence-based clinical practices to optimize the health of people, families, communities, and our health system
Finally, nurses are well aware that Ontario's economy is still recovering from the recession. And that we are affected by global events we can't control. We need to put our deficit and debt in perspective. It's also important to understand that spending cuts for social programs would only punish the economy even more…not help it. We've witnessed on the news the effects of austerity policies in parts of Europe. Yes, our deficit is significant but it's also manageable.
Our recommendations on how to pay for this are:
Make sure people pay their fair share of taxes. Tax cuts for wealthy people and cutting spending for social programs hurt our economy
Impose green taxes to help pay for the damage polluters cause
Go back to Rhonda Seidman-Carlson's speaking notes now