RNAO Pre-budget Jan. 25, 2021: Speaking Notes
Submitted by amorris on Jan 26, 2021, 5:47pm
My name is Doris Grinspun and I am the CEO of the Registered Nurses' Association of Ontario (RNAO), the professional organization that represents RN, NPs and nursing students in the province.
Our budget presentation consists of two themes:
Our first theme is "Don't get ahead of ourselves"
Nurses acknowledge and share concerns that Ontario is in the steepest economic contraction since the Great Depression (1.)

Nurses want to speed up the recovery and the way to do this is to suffocate the pandemic, which is the worst in over a century (2.)

This pandemic will continue through much of the budget year and smothering it must remain the government's top priority.

For this reason, we ask that you:
1. Assign the vaccination program fully into the hands of Public Health. And, accelerate the roll-out by deploying 24-hours-a-day, seven-days-a-week thousands of RNs, NPs, RPNs, physicians and pharmacists who work in primary care and home care to the vaccination process.
2. Invoke bold public health measures to suffocate the virus, including:
10 paid sick days during the pandemic
A full eviction moratorium
Accommodation for self-isolation
3. Protect Residents and Workers in Long-Term Care (LTC) (4.)
Immediately hire 1,000 more NPs, RNs and RPNs to work in LTC (2,500 available today), and as many PSWs as are available.

Mandate and fund all LTC homes to deliver a minimum of four worked hours of direct nursing and personal care per resident-day, including a minimum of 48 minutes of RN care, 60 minutes of RPN care and 132 minutes of PSW care. And, one NP for each 120 residents. Plus one Infection and Prevention and Control (IPAC) nurse per LTC home.
Embed RNAO's evidenced-based practices in LTC homes, and electronic medical records to advance quality care and ongoing on-the-job capacity-building.
4. Address the deepening opioid overdose crisis (5.)
Approve and fund the 21 Consumption and Treatment Services (CTS) sites announced in 2018 and lift the cap on CTS sites to expand services to every community in need across Ontario.
Immediately utilize the federal exemption under the Controlled Drugs and Substances Act (CDSA) [available till Sept 2021] to create and fund an Urgent Public Health Need Site (UPHNS) -- commonly known as overdose prevention sites -- program for Ontario to allow people who use drugs to stay safe from overdose and limit their contact with others by following COVID-19 public health measures.
Our second theme is "Ensure the recovery is a recovery for all"
Several social and economic circumstances made this pandemic disproportionately punishing for low income and racialized communities and contributed to community transmission. The circumstances must be fixed as a fundamental post-pandemic public health initiative, including:
1. Housing and Homelessness (6.)
The province has been in the grips of a housing crisis for decades.

Pandemic has exacerbated this problem.

The threat of eviction, underhousing and homelessness will last well beyond the pandem

ic.
2. Amend employment standards to increase the minimum wage and enshrine paid sick days
Ontario's minimum wage has fallen well behind the cost of living putting basic necessities such as healthy and safe accommodation and food security out of reach for hundreds of thousands of Ontarians.

The absence of paid sick days in the context of insufficient income security forces workers to go to work sick, contribute to community transmission of disease and impose unnecessary burden on the health-care system.
On behalf of RNAO, I wish to thank you Minister Bethlenfalvy for hearing what nurses have to say and the solutions we propose.
Background Notes

1.
2.
Deaths in the second wave rival those in the first wave

Number of new daily cases is many times higher than it was in the first wave (see graphs at end)

.



3.
4.
As of Jan 20, 3,239 LTC resident deaths

Second wave daily deaths are approaching those in first wave

Have not started to address staffing shortage in LTC, whereas Quebec moved to quickly increase staffing over the summer.

There are many RNs and other health professionals and health workers available:




In 2020, according to CNO, the following numbers of nurses were seeking Ontario nursing employment

2,665 RNs

69 NPs

2,935 RPNs

Total: 5,600 nurses
5.
6.
RNAO housing ask:
Work with municipalities, Indigenous governing organizations and housing associations and not-for-profit housing associations to assist with programs and funding to rapidly house people experiencing homelessness, including:

Immediately deploy Ontario's share (about $400 million) of federal funding under the $1 billion Rapid Housing Initiative to acquire, develop and maintain affordable housing and match that with Ontario's own contribution of $400 million.
Provide additional funds to support the provision of wrap-around services for those housed through the Rapid Housing Initiative.

Appendix: LTC COVID-19 Cases and Deaths in Ontario
Ontario. (2021). COVID-19 cases: Long-term care homes. Jan. 7. https://covid-19.ontario.ca/data/long-term-care-homes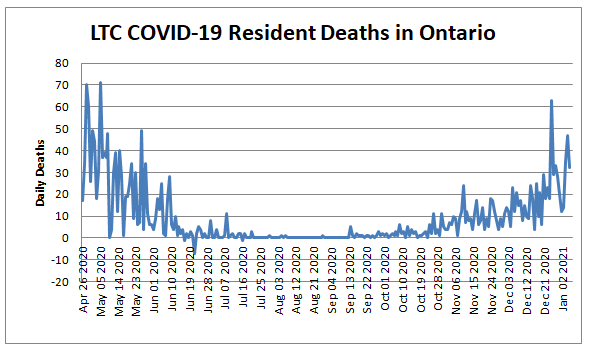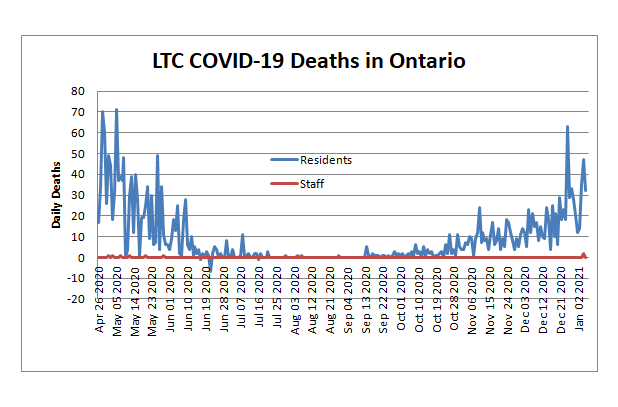 Ontario. (2021). COVID-19 case data: All Ontario. https://covid-19.ontario.ca/data