Why Health Matters: A nurses' guide to the 2015 federal election
Submitted by admin on Thu, 2015-08-06 10:49
As Canadians, it's our duty to engage in the democratic process. And as registered nurses, nurse practitioners, and nursing students, it's up to us to make sure important health issues are on the election agenda.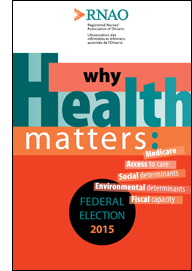 Even though health is a provincial responsibility, the federal government has a vital role to play in keeping Canadians healthy, and RNAO wants each federal political party to put health first during the campaign. We encourage nurses and all Canadians to actively participate in the electoral process, including: running for office, getting to know candidates and key issues, attending events, signing one of our action alerts, and casting an informed vote.
To guide you through this election campaign, we have created a myriad of in-depth resources detailing the 2015 federal election issues that will keep Canadians healthy. These policy priorities were developed through extensive research and consultation with stakeholders across the country.
Our political action toolkit will help you get involved. And we are hosting events across the province where our members will ask candidates tough questions on health and social policy.
Some of the priorities for RNs, NPs, and nursing students in the 2015 federal campaign are:
Protecting and strengthening Canada's universally accessible, publicly-funded and not-for-profit health system
Improving access to quality, person-centred care
Tackling the social determinants of health
Protecting the environment
Building fiscal capacity
Get informed, get engaged, and get ready to cast your vote.