Visionary Leadership
Submitted by nhalper on Jun 20, 2013, 11:03am
Following RNAO's BOD decision to articulate a vision for nursing, policy staff presented a comprehensive "vision" that describes what RNAO believes should occur across five major sectors in short, medium and long-term goals with supporting activities.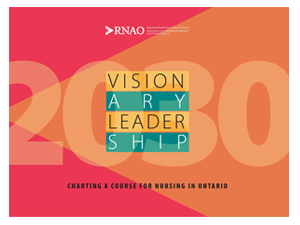 Visionary Leadership Consultation Series was held on December 5 and 6, 2012 via OTN webcast. We are in the development stages but want to be sure to include members.
Our next steps are to incorporate members feedback into a revised set of documents for review by the RNAO board in September.
Following the incorporation of their edits, final documents / media will be unveiled at RNAO's 2014 Queen's Park Day event.