Creating Vibrant Communities
Submitted by admin on Apr 3, 2012, 5:00pm
RNAO released a comprehensive report called Creating Vibrant Communities: RNAO's Challenge to Ontario's Political Parties in January 2010.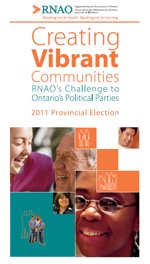 Although a provincial election doesn't take place until later this year, Ontario nurses have created a list of priorities aimed at tackling poverty, creating a cleaner environment, and improving access to patient care and nursing services.
RNAO shared these policy recommendations with politicians in the hope that they will adopt them as part of their political platforms for the election on Oct. 6.