The Ontario Election and You
Submitted by admin on Jul 6, 2007, 12:00am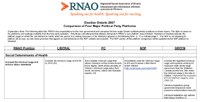 RNAO Election Platform Comparison
We have developed a summary of our election platform and compared them to the four major parties' platforms in this year's Ontario election. Download it here [PDF - 75 KB]
Press Release: RNs urge Ontarians to remember that their vote on Oct. 10 can help create a healthier society
Open Letter: An Open Letter to all the political parties in the 2007 Ontario election campaign on full-day kindergarten and early learning and child care
Members of Ontario's political parties took part in a debate on poverty and health on September 25, 2007 at the University of Toronto. The debate was organized by RNAO, Health Providers Against Poverty and the Income Security Advocacy Centre of Ontario and moderated by Carol Goar of the Toronto Star.
We wanted to devote an evening to this issue because we feel the links between poverty and health are not well known. We also wanted Ontario voters to know where the parties stand on this issue.
In this selection of video highlights, each candidate was asked to outline their platform to reduce poverty.
Taking Action! Political Action and Information Kit for RNs
RNAO's Taking Action! Political Action and Information Kit for RNs provides members with strategies for building alliances, lobbying politicians, working with the media, and becoming active during an election period.