World Health Day – Tuesday, April 7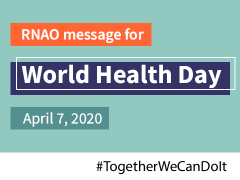 World Health Day takes place on April 7 and one of the signature events is the release of the first ever State of the World's Nursing report. The World Health Organization (WHO), in partnership with the International Council of Nurses and Nursing Now, has developed this report to provide a global picture of the nursing workforce and how support for evidence-based planning optimizes the contributions of nurses to improve health and well-being for everyone.

WHO will launch the report on April 7 and will also host a Facebook live event from 10 - 10:30 a.m. (CEST) – or people in the eastern time zone, it is 4 - 4:30 a.m. (ET). The event is entitled: Q&A on the State of the World's Nursing Report with Carey McCarthy. You will be able to watch the Facebook live event by viewing it on the WHO Facebook page.
You can also tune in on April 7 at 2:30 p.m. (CEST) – for people in the eastern time zone, it is 8:30 a.m. (ET) – to hear Dr. Tedros Adhanom Ghebreyesus, WHO director-general and Elizabeth Iro, chief nursing officer speak about nurses and midwives in the COVID-19 response. Please access the Facebook live event through the WHO Facebook page or other WHO social media channels.

RNAO is a staunch supporter and is involved with these organizations to help shine a light on the tremendous work of nurses. RNAO is a pioneer in evidenced-based practice and health organizations all over the world benefit from our best practice guidelines.

RNAO will also be releasing a message on World Health Day. For more information, please see our media release.

Also, check out a video by RNAO member Paula Manuel recognizing World Health Day and the work of nurses.