The world after COVID-19: Register for webinar on July 12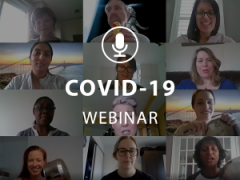 The pandemic has worsened existing global disparities. Wealthier nations are beginning to recover, while the poorest nations are still waiting to receive their first doses of the vaccine. Added to this is the projected drop in health human resources at home and abroad.
Join us on Monday, July 12 at 2 p.m. ET for a discussion with RNAO CEO Dr. Doris Grinspun who will share her worries about the future of health care and the world's peoples, post pandemic. Will it be again the poorest of the poor who suffer the most? Will we start poaching nurses and other health providers from low resource countries? Who will pay the price and who will keep an eye on preventing further devastation?
Register now for our webinar on July 12 from 2-4 p.m. ET.
Learn more about our past webinars online including our latest on June 14 when RNAO CEO Dr. Doris Grinspun provided an update on the provincial decision not to reopen schools, advancing the reopening of the province to June 11, Bill 124 and what to expect post pandemic in general and nursing specifically.