Working with First Nations in Ontario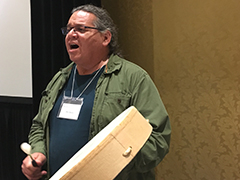 More than 100 nurses from across the province joined RNAO and Indigenous Services Canada in Niagara Falls for a workshop aimed at nurses working with First Nations in Ontario.
Nurses who work with Indigenous communities were given the opportunity to learn about evidence-based best practices on cultural safety, trauma-informed care, and strength-based approaches to mental health, substance use and chronic diseases.
In addition, various Indigenous traditions were incorporated throughout the workshop including the presence and counsel of spiritual leaders, daily smudging ceremonies and various applications of the Medicine Wheel.
Participants were also given an opportunity to practice self-care, collaborative practice and enjoy the beauty of the local scenery.
The next workshop is scheduled for November and takes place in Thunder Bay.