Wisdom in Wound Care Webinar Series: Skin Tears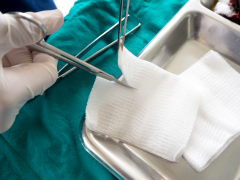 Interested in wound care? RNAO has a webinar series for you!
Beginning in May 2021, the Wisdom in Wound Care Webinar Series offers 11 monthly, 45-minute webinars hosted by RNAO and facilitated by wound care experts in Ontario. The webinar series covers best practices in relation to acute and chronic wound prevention, assessment and treatment.
The July webinar focused on wound bed assessment, and the August edition will focus on skin tears.
The mission of the webinar series is to reduce the physiological, psychological and the fiscal burden of wounds throughout Ontario by building clinical expertise using best practices related to wound care.
By the end of the webinar series, attendees will be able to explain:
the appropriate best practices as they pertain to varying wound care issues
how they can influence optimal person-centered outcomes
RNAO members can register for the entire webinar series, which will wrap in April 2022.