Wisdom in Wound Care Webinar Series: Pressure injury assessment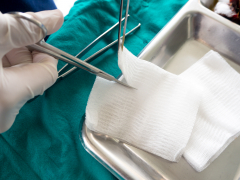 Are you interested in wound care? RNAO has a webinar series for you!
The Wisdom in Wound Care Webinar Series began in May 2021 and is hosted by RNAO and facilitated by wound care experts in Ontario. The mission of the webinar series has been to reduce the physiological, psychological and the fiscal burden of wounds throughout Ontario by building clinical expertise using best practices related to wound care.
The next 45-minute webinar on Oct. 6 at 12 p.m. will cover pressure injury assessment. By the end of this webinar, attendees will be able to:
use evidence-based best practices to identify the proper assessment of pressure injuries
describe the appropriate staging of pressure injuries according to NPIAP (2019)
Learn more and register online.
Other topics covered in the webinar series so far include incontinence-associated dermatitis and skin frailty, skin tears, and wound bed assessment.