Winners of RNAO Media Awards announced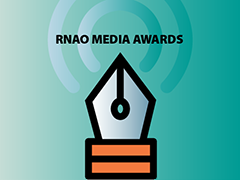 The results are in. RNAO is proud to honour a group of outstanding journalists with its Media Awards.
A panel of judges comprised of nurses and journalists selected the nine most compelling and informative stories of 2018 from dozens of entries in this year's competition.
The list of winning stories include a piece by CBC Television on the challenges health-care professionals face in the northern communities, a story by Toronto Star on how a Peel nursing home transformed into an innovative, person-centred home and a TV feature by CTV National News on the growing number of Canadians looking to experiment with cannabis for its medicinal properties.
From mental health to health-care reform, journalists covered a wide range of topics including the health minister's decision on supervised injection services this year and the Middlessex-London Health Unit's community drug and alcohol strategy.
The winners will receive their awards at the president's banquet of RNAO's 94th Annual General Meeting, held April 12 at the Hilton Toronto. For more information, please read our media release.
RNAO's Recognition Awards will also be presented at the president's banquet. The awards will recognize those who work in research, administration, policy/political action, education and clinical practice.