What's New in Best Practices Webinar: Promoting 2SLGBTQI+ Health Equity Best Practice Guideline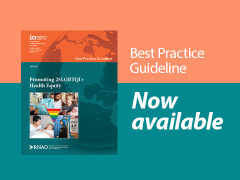 Learn about the recently launched Promoting 2SLGBTQI+ Health Equity best practice guideline (BPG) during a one-hour webinar on Oct. 7 at 1 p.m. ET.
Join expert panel co-chairs Sheena Howard and Dr. Elizabeth Saewyc, and guideline development methodologists Amy Burt and Deborah Flores for an update on the BPG.
The objectives of this webinar are to:
describe the purpose and scope of the guideline
describe the guideline development process
highlight guideline recommendations and its practical implications
provide an overview of RNAO resources to support with guideline implementation
Learn more and register online.