What does nursing mean to you? Send us your story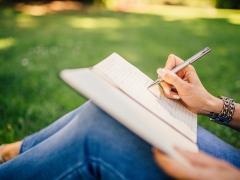 For almost a decade, RNAO has called on its members to share with colleagues the true meaning of nursing through anecdotal storytelling.
Is there a particular individual – patient or colleague – who comes to mind when you're asked what nursing means to you? Is there a situation you can recall that had a profound effect on you, reminding you just why you decided to become a nurse?
As the Registered Nurse Journal continues its transition to RNJ digital, the just-launched online platform for all your RNAO news and features (RNJ.RNAO.ca), we will continue to publish your stories and reflections on our new, searchable platform for members to enjoy. Log in and browse RNJ.RNAO.ca and tell us what you think. We'd love to hear from you.
And since this is your journal, we welcome submissions. Stories should be 450-500 words. Be sure to include your membership number and any relevant contact information for follow-up. If you have an idea you would like to discuss before you start writing, we can help you focus on a concept and get started.
Write to editor@RNAO.ca or call us at 416-599-1925 or 1-800-268-7199 ext. 233.

For some inspiration, and a glance at what other nurses have shared for this special feature, visit In the End.