What does nursing mean to you? Send us your story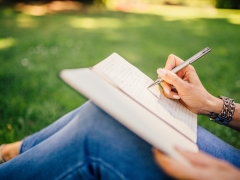 Are you interested in being published in the Registered Nurse Journal? Each issue dedicates a page to your stories. And we want to include your story next.
Known as In the End, and found on page 30, this one-page feature is an opportunity for RNs, NPs, and nursing students to tell others what nursing means to them. Is there a particular individual – patient or colleague – who comes to mind when you're asked what nursing means to you? Is there a situation you can recall that had a profound effect on you, reminding you just why you decided to become a nurse?
Write to editor@RNAO.ca if you're interested in telling readers "What nursing means to me…".
And remember, submissions should be 450-500 words. Be sure to include your membership number and any relevant contact information for follow-up. If you have an idea you would like to discuss before you start writing, we can help you focus on a concept and get started. Just call us at 416-599-1925 or 1-800-268-7199 ext. 233