We want to hear from you: register for a BPG focus group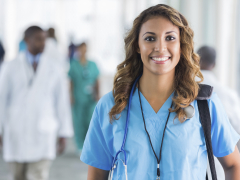 RNAO will be hosting four focus groups to inform the revision of the best practice guideline (BPG) Establishing Therapeutic Relationships. We will discuss what would be most helpful to support the development of therapeutic relationships across clinical settings.
As the therapeutic relationship with a person and their family (where applicable) is foundational to nursing practice, it is essential that all nurses, including students, develop evidence-based knowledge and skills in areas such as trust, respect, professional intimacy, empathy and power across clinical settings.
The four focus groups will be one-hour in length and will be held late March and early April 2019 via teleconference. Each focus group will target different participants:
1. nursing students (March 26)
2. clinical instructors and nurse educators (March 28)
3. BPSOs who are implementing this BPG (April 9)
4. point-of-care/ front-line nurses (April 10)
Register today for one of the above focus groups. Please register online.
The focus groups will be facilitated by the guideline development co-leads and RNs Amy Burt and Katherine Wallace.
Should you have any questions, please contact guideline development project coordinator, Glynis Gittens at ggittens@RNAO.ca.