Virtual BPSO Knowledge Exchange Symposium hears from BPSOs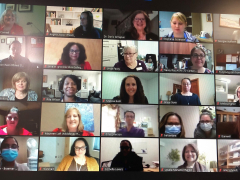 More than 280 representatives from RNAO's Best Practice Spotlight Organization (BPSO) program came together virtually from all over the world for the annual BPSO Knowledge Exchange Symposium, which was held virtually this year on Nov. 24.
RNAO CEO Doris Grinspun welcomed the BPSO representatives and provided an inspirational session to start off the event. Ontario's Minister of Health and Deputy Minister Christine Elliot also attended the symposium, and thanked those present for their contributions to the health system during COVID-19, and for their commitment to the BPSO program.
Those attending had the opportunity to hear from an international panel that shared their experiences about implementing RNAOs best practice guidelines during COVID-19, and the impact this had on outcomes in Canada, China, and Chile in both service and academic organizations. A Pecka Kucha panel included presentations from China, Jamaica and from BPSOs within Ontario, providing an opportunity for the sharing of effective implementation strategies.
A key feature of the symposium was the launch of a virtual poster gallery – an online forum for BPSOs to share resources, tools and successful strategies that was created by RNAO's information management and technology team. This poster gallery will provide a foundation for an ongoing "sharing centre" for BPSOs to network and learn from each other.