Updated BPG: Preventing Falls and Reducing Injury from Falls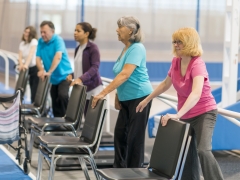 The third edition of RNAO's BPG Preventing Falls and Reducing Injury from Falls is now available.
The purpose of this guideline is to outline evidence-based approaches for preventing falls and reducing fall injuries. This highly anticipated guideline has an expanded scope from the previous edition to include all adults (aged 18 and older) and recommendations that are applicable across the spectrum of care.
New recommendations cover topics such as falls risk screening, engaging adults at risk for falls, communicating at care transitions, and organizational strategies to reduce falls and fall injuries.
RNAO's previous edition of the guideline on the topic of falls was one of the most highly implemented BPGs by BPSOs across Canada and around the world. The evaluation results of BPSOs from various sectors in the years following implementation saw improved outcomes such as a reduction in number of falls per patient day.
The guideline is now available online for free download at RNAO.ca/bpg/guidelines/prevention-falls-and-fall-injuries, and will soon be available for hard copy purchase.