Update on Bill 37 submission and next steps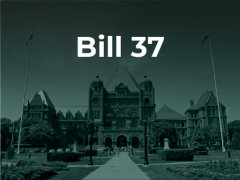 Bill 37, the Providing More Care, Protecting Seniors, and Building More Beds Act, 2021, has received royal assent. The bill represents the government's response to the COVID-related deaths of more than 3,800 residents and 13 staff in Ontario's long-term care homes.
In her presentation to the Standing Committee on the Legislative Assembly on Nov. 24, RNAO CEO Dr. Doris Grinspun made it clear that Bill 37 fell short of the fundamental changes required after decades of neglect and underfunding by successive governments. RNAO's written submission pressed for a number of amendments to the bill, including the adoption of RNAO's Nursing Home Basic Care Guarantee. RNAO's submission also called for regulatory oversight of Ontario's retirement homes to revert to the Ministry of Long-Term Care in light of dramatically increasing resident acuity.
Regrettably, Bill 37 moved through committee and passed third reading without substantial amendments. RNAO will continue to press for changes needed to improve Ontario's long-term care sector, and the care of the province's seniors generally, as we move closer to the provincial election in June 2022.
For a recap of Dr. Grinspun's presentation, read RNAO's Twitter coverage.