Toronto commits to climate change action plan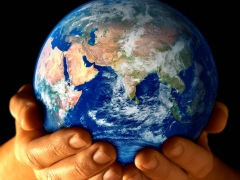 To meet its 2050 greenhouse gas (GHG) emissions targets, the City of Toronto unanimously supported a climate change action plan – TransformTO: Climate action for a healthy, equitable, prosperous Toronto – that will reduce the city's GHG emissions by 80 per cent by 2050.
Supported by RNAO, TransformTO includes an urban redesign to make communities more walkable and bikeable, enhanced transit, and rehabilitation of social and other housing to make Toronto more energy efficient. The plan is also designed to give major health co-benefits
- affordable living
- job creation, particularly for vulnerable populations
- poverty reduction
- pollution reduction
- creation of resilient communities and infrastructure
The collaborative plan was led by Toronto's Environment and Energy Division and The Atmospheric Fund. RNAO participated in the development of the plan.
As an active member of the Modelling Advisory Group of TTO, RNAO is proud to be one of the 44 signatories of a letter that called on the Toronto Council to adopt and fully implement TransformTO.
RNAO will continue to work with our partners to ensure the city follows through on the full implementation of the plan.