Tell Premier Ford, Health Minister Elliott and Finance Minister Fedeli that people in Ontario need more RNs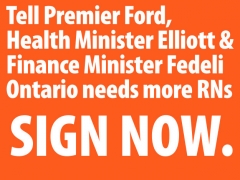 For the third year in a row, Ontario has the lowest registered nurse (RN)-to-population ratio in the country.
Figures released on June 14 by the Canadian Institute for Health Information (CIHI) show that Ontario's RN-to-population ratio continues its downward trend. CIHI figures show the province has only 669 RNs per 100,000 people, compared to 828 RNs per 100,000 people across the rest of Canada. This puts patients at risk.
Ontarians need more RNs to deliver quality health care in a timely matter. That's why RNAO was pleased that then-Premier-designate Doug Ford clarified that nurses are not included in the public sector hiring freeze announced on June 18.
To end hallway nursing, RNAO calls upon Premier Ford and the incoming government to:
Directing hospitals to immediately post and fill the 10,000 RN vacancies in hospitals
Directing hospitals to ensure that all new nursing hires in acute care and cancer care hospitals be RNs
We urge you to:
Sign the action alert below addressed to Premier Ford, Minister of Health Christine Elliott, and Minister of Finance Vic Fedeli
Share this action alert with your networks and urge them to sign and send it to others