Tell a colleague: NPs can join and receive a free book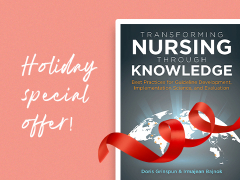 RNAO is marking the holiday season by giving away a copy of Sigma's best seller Transforming Nursing Through Knowledge when NPs join RNAO before Dec. 31, 2019.
NPs gain access to numerous benefits when they join including professional liability protection, networking opportunities and career counselling services.
When NPs join RNAO, they also become part of an association of 43,408 RNs, NPs and nursing students whose strong collective voice is speaking out for:
NP compensation parity
attending NPs in all long-term care homes
expanded scope of practice for NPs
To join, NPs only pay:
$256.36 if they are a regular member
$175 if they are an ONA member
$87.83 if they are on parental leave or work 15 hours or less per week
$102.94 if they are a new NP grad
PLP and all taxes are already included in the price. To learn more, please see our flyer below.