Take Your Politician To Work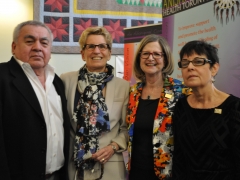 Planning for RNAO's Take Your Politician To Work (TYPTW) event is officially underway.
Known in previous years as Take Your MPP To Work, RNAO has renamed it this year to Take Your Politician To Work given the June 7 provincial election.
Each year, RNAO and members organize events for politicians to visit members' workplaces to gain more insight into the expertise of Ontario's RNs, NPs, and nursing students.
Past visits have seen Ontario's MPPs join RNs, NPs and nursing students on public health visits, community health centres, home care, hospital rounds, nursing homes – to see firsthand how nurses provide quality health care in a variety of settings.
All political candidates will have the opportunity to participate in this event. This includes candidates from all four parties: Ontario Liberal Party (Liberals), Progressive Conservative Party of Ontario (PC), New Democratic Party of Ontario (NDP) and Green Party of Ontario (Green Party).
To participate in TYPTW, please contact Peta-gay Batten or email her at pgbatten@RNAO.ca. We have also posted resources on our website. Resources include a planning toolkit, a template politicians invitation, and a template to request permission from your CNO/CNE to host a politician in the workplace.