Switch to continuous renewal and guarantee ongoing access to benefits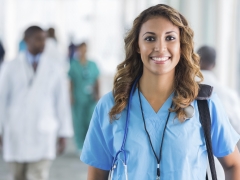 Make your life easier with RNAO's continuous membership.
Continuous membership means that your membership is automatically renewed each year. It's convenient and guarantees ongoing access to the benefits you value, like professional liability protection (PLP).
All RNAO members on continuous renewal will also have a chance to win a copy of Transforming Nursing Through Knowledge, co-authored by RNAO's CEO Doris Grinspun and former International Affairs & Best Practice Guidelines director Irmajean Bajnok. Please see the rules for the book give-away online.
To switch to continuous renewal, login to your myRNAO account. Under "Payment Information", click on "Sign up for continuous renewal".
Continuous renewal can be paid a number of ways:
- a single annual credit card charge
- monthly credit card charges (charged on the seventh of each month)
- monthly pre-authorized payments from a bank account (charged on the first or 15th of each month)