Strengthen heat resilience in the city of Toronto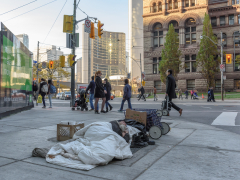 When advocating for people's health, one of RNAO's goals is to decrease health inequities among marginalized people who bear an increased burden of sickness and premature death.
That's why, on Oct. 28, nursing policy analyst Joy Dawkins presented RNAO's feedback on the City of Toronto's Heat Relief Strategy. Although summer has passed, we must work together to prepare for summer 2020.
As we know, climate change is a risk to health and Canada is warming at twice the global rate. Those who are marginalized are most at risk from the rapidly changing effects of climate change. This includes extreme heat and cold.
Despite compelling evidence, the city of Toronto's current response through its Heat Relief Strategy is not providing the services and resources needed by those who are most vulnerable.
RNAO urges the city's Board of Health to make recommendations to ensure the city is meeting its obligation to provide adequate and accessible services and resources during extreme weather. Included in our recommendations is re-issuing heat alerts and operating and funding 24/7 cooling centres with properly trained staff.
To read our full list of recommendations, please read our full submission online.